Una nueva página muy prometedora acaba de abrir: VerifiedDomme.com. En este portal podremos contactar e interactuar con Amas con total certeza de que se tratan de perfiles REALES, ya que las Amas deberán verificar sus perfiles con Fotos y/o Vídeos. Una gran herramienta de búsqueda que guardaremos en nuestros favoritos para ver su evolución.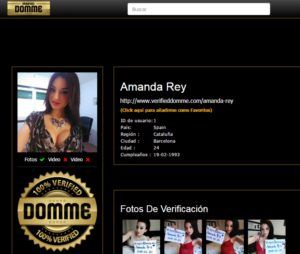 Tags: Amas, anuncios, búsquedas, contactos, Dominacion femenina, dominación financiera, Fetichismo, Fetish, Humillación, promoción, reales, Verified Domme, Webs
Leave a Reply
You must be logged in to post a comment.
Categories
Links
Archives
Tags
Amas
BDSM
Botas
Chicas
Chica sexy
Cuero
Culazos
Culos
D/S
Dominacion femenina
Dominación
dominación financiera
Esclavos
esclavos financieros
Facesitting
Femdom
Fetiche
Fetichismo
Fetish
Humillación
Jeans
Juegos eróticos
Lencería
Látex
Medias
Mistress
Morenas
Nalgas
Nylon
pagafantas
Pies
Rubias
Sado
Sexy
Sumisión
Sumisos
Tacones
Tangas
Tejanos
The Jeans Net
Trampling
Vaqueros
Vestidos
Vídeos
Zapatos